Purpose of Isolators is to ensure that an electrical circuit is completely de-energized in order to conduct the service or  maintenance. Isolators are also familiar as isolation switches for isolating the electrical circuits, such switches are often found in electrical power distribution and industrial appliances and other applications, where it is critical that machinery must have its source of driving  power removed for adjustment or repair.
High-voltage isolation switches are used in  electrical substations to allow isolation of apparatus such as circuit  breakers, transformers, and transmission  lines, for maintenance. The disconnector switch is  usually not intended for normal control of  the circuit like circuit breakers, the main purpose is only total isolation. Isolators can be operated either  manually or automatically (motorized  disconnector switches).
Operation of Electrical Isolator
Isolator must be operated when there is no chance of current flowing through the circuit. Also no live circuit should be closed or opened by isolator operation. To avoid dangerous conditions like arcing between isolator contacts, at the same time live closed circuit must not be opened by isolator operation and also a live circuit must not be closed and completed by isolator operation.
Therefore we can say in principle isolators must be open after circuit breaker is open and these must be closed before circuit breaker is closed. Isolator can be operated by hand locally as well as by motorized mechanism from remote position. Motorized operation arrangement costs more compared to hand operation; hence decision must be taken before choosing an isolator for system whether hand operated or motor operated economically optimum for the system.
For voltages up to 145 KV system hand operated isolators are suitable whereas for higher voltage systems like 245 KV or 420 KV and above motorized isolators are suitable.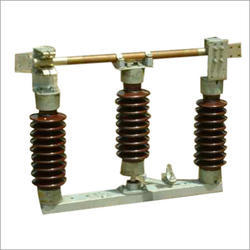 Highlights of Typical Isolator
Type tested at M/S. ERDA, VADODARA.
Single pole / Three pole
Offload / On Load
Manually operated / motorised operated.
Compact In Dimensions.
Sturdy Design of current carrying parts.
Availability of link drive/Aux. switch for swtichboard operation/electrical indications & interlock purpose Respectively.
Insulators have high Anti-traking qualities.
Easy to mount on walls, structures or in switch boards/panels.
High operating reliability
Simple maintenance & inspection.
Custom built isolator panels with various interlocks are also suitable for indoor/outdoor Application.
Characteristics of Isolators
D-Energize the circuits
Total Isolation for safe maintenance
Isolator is an off-load device
Manually Operated
Automatic Operation
Having Padlock for
Ability to earth the isolated circuit thereby providing additional safety

Types of Isolators are:
Central rotating, horizontal swing
Center-Break
Vertical swing
Pantograph type
Sequence of Steps for Maintenance involving Isolator:
Open Circuit Breaker on no load or full load
Open the isolator on no load
Close the earth switch
Sequence of Steps to Keep circuit back in service:
Open the earth switch
Close the isolator
Close the Circuit Breaker
Categories of Isolators
Depending upon the position in power system, categories of isolators are:
Bus side isolator – the isolator is directly connected with main bus
Line side isolator – the isolator is situated at line side of any feeder
Transfer bus side isolator – the isolator is directly connected with transfer bus.