Being an electrical engineer on a construction project is a very tedious and responsible job. Electrical site engineer is wholly responsible for the ordering of materials as per the pre approved material submittals and an electrical project specifications. Here in this article we have included the complete list of testing requirements for an electrical system that includes cables, wires, transformers and distribution boards etc. This will help you to plan all the activities for the smooth running of the electrical project. The information given is brief and specific procedures or method statements for electrical testing shall be prepared by site engineers and the same should be approved by client/consultants etc.
Wiring Testing Requirements
All wiring and cable tests shall be made before any circuits, main switch, motor, transformer or line is energized.
Tests shall be made for continuity, identification and absence of shorts and grounds for each conductor. Both ends of a given conductor shall be identified alike. Before circuit terminal connections are made, continuity and identification of wiring shall be checked by means of a DC test device using a bell, light, meter, or buzzer.
Insulation test shall be done at the following values: 230 Volt Wiring at 500 Volts DC
Insulation resistance between phase conductors and ground shall not be less than the minimum requirements of 200 mega-ohms.

Wire terminations are not to be made to equipment (motors, MCCs, bus ducts, etc.), until that piece of equipment has been tested and verified as specified in this sections.
Test motor feeders with motors disconnected, but with circuit breakers, switches or starters in the circuit opened so as to include only that portion of the feeder it is desired to test.
Test lighting feeders with the circuit breakers and panelboards connected but with lighting branch circuit breakers or switches open so as to include only the feeder circuit desired to test.

Electrical engineer at the project site shall correct or replace any circuit which is defective or grounded and he shall also correct all other troubles encountered by these tests. All defects whether due to faulty workmanship or material shall be corrected.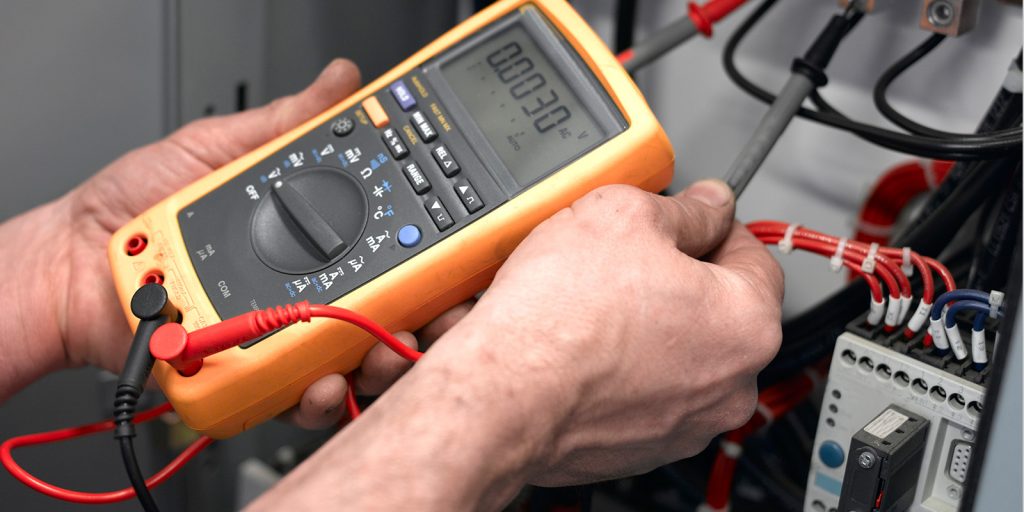 Light Fittings / Lighting Test
All lighting fixtures to be checked for proper operation and in addition lighting control system must be checked as per the lighting philosophy approved for a specific project.
Motor Testing Requirements
All 400 volt motors shall be individually tested for insulation resistance using 1000V DC. All 230V motors shall be tested with 500V DC in a similar manner. The minimum resistance to ground shall be 2000 mega-ohm (corrected to 50 degrees C). Electrical engineer shall record the ambient temperature of the motor and submit this value along with insulation resistance value. For motors from 7 1/2 to 20 HP, engineer shall submit Dielectric Absorption Ratios. For motors above 20 HP, the Polarization Indexes of the motor shall also be submitted. Make the following checks on all motors prior to start up:
Check motor name plates for H.P., speed, phases and voltage. Verify proper wiring.
Check shaft for freedom of rotation.
Verify that the motor is properly lubricated prior to energizing.
Make the following tests on all motors during or immediately after start-up:
Check for proper shaft rotation.
Check motor for smooth operation (vibration).
Take a current reading using a clamp-on ammeter. (No-load readings and loaded readings).
Panel board, Bus Bar Risers (Busways And Trunkings) and MCC Tests
Insulation resistance test to be done for all equipment to be operated on the 230V system at 500V DC prior to connecting feeders. A minimum insulation resistance of 200 mega-ohm shall be obtained between all phases and between phase and ground.
Generator Paralleling And Synchronizing Panel Tests
Generator paralleling and synchronizing controls shall be thoroughly tested at the factory to assure that there are no electrical or mechanical defects. Tests shall be conducted as per UL and ANSI standards. Factory tests shall be certified. Manufacturer's factory test reports to be provided and approved prior to shipment of the generator paralleling and synchronizing switchgear to ensure that the switchgear has been successfully tested.
Acceptance Checks and Test:
Perform in accordance with the manufacturer's recommendations. Include the following visual and mechanical inspections:
Compare equipment nameplate data with specifications and approved shop drawings.
Inspect physical, electrical, and mechanical condition.
Verify appropriate anchorage, required area clearances, and correct alignment.
Verify the correct operation of all sensing devices, alarms, and indicating devices.
Upon completion of acceptance checks, settings, and tests, the electrical contractor shall demonstrate that the paralleling switchgear is in good operating condition and properly performing the intended function.
Transformer (Power 600V or Less) Test
Insulation tests on transformers shall be as follows:
230Volts Low Side
Test with 500V DC, low side to ground. 200 mega-ohm shall be the minimum acceptable insulation resistance.
Insulation Test
Insulation test shall be interpreted as the specific test method of obtaining insulation resistance by applying indicated test voltage for 60 seconds to the equipment or wiring being tested.
Factory Test
The following items of equipment shall be tested at the manufacturer's works or elsewhere as appropriate prior to installation. In all cases, test certificates shall be submitted in triplicate certify by the Electrical engineer.
LV Switchboard and Motor Control Centre
Type test Certificates indicate short circuit capacity and temperature rise
Factory Tests Report on the unit.
Generating Plant
Type Test Certificate
Factory Tests Report on the unit
Fuel Storage Tank:  Hydraulic Test Report endorsed by manufacturer
MV Switch Board
Type Test Certificate
Factory Tests Report on the unit.
MV/LV Transformer
Type Test Certificate
Factory Tests Report on the unit
Normally electrical contractor shall arrange for all the factory tests for major electrical equipment's and expanses are born by the contracting company.