Cable tray system shall be used for laying of MV and LV power, control, instrumentation and special cables in the Power Plant.  Cable trays shall be supported on cantilever brackets at specified interval. The trays shall be strong enough to keep the deflection of the fully loaded tray within permissible limits.
In general, cable trays run in parallel to building walls and electrical panels. Vertical distance between adjacent cable trays, measured from the bottom of upper tray to the bottom of the lower tray, shall be at least 400 mm.
To avoid damage during cable laying, cable trays and accessories shall have no scales, abrasive, rough surfaces or cutting edges. Cables shall be clamped or tied with the tray rung generally at an interval of 1500 mm for horizontal run and 900 mm for vertical run.
For corrosion prone areas viz. battery room etc. epoxy painted cable trays or fiberglass cable trays shall be used.  Trays used in chemical house shall be applied with acid resistant paint.
All metal section and components of the cable tray system shall be bonded together and effectively grounded to provide a continuous circuit to ground for fault current.
Cable Tray Project Specific Requirements
Cable trays shall be pre‑fabricated / perforated ladder type made of hot dip galvanized sheet steel in standard length of 2.5 meters. Alternatively cable trays shall be made up of Fibre Reinforced Plastic (FRP).
Cable trays shall be of standard width such as 300 mm, 450 mm and 600mm respectively. Perforated cable trays shall be of standard width such as 100 mm, 150 mm, 300 mm and 600mm respectively. Two straight cable trays shall be coupled with a coupler plate made of 2 mm MS sheet.
Cable trays shall be complete with necessary hot dip galvanized sheet steel accessories such as coupler plates, ground continuity connections, clamps, nuts, bolts, washers, hangers, clamps, horizontal / vertical bends, horizontal / vertical Tee, elbows, reducers, horizontal cross‑piece, covers etc. along with straight runs in order to take care of cable tray alignments in different routes in the plant.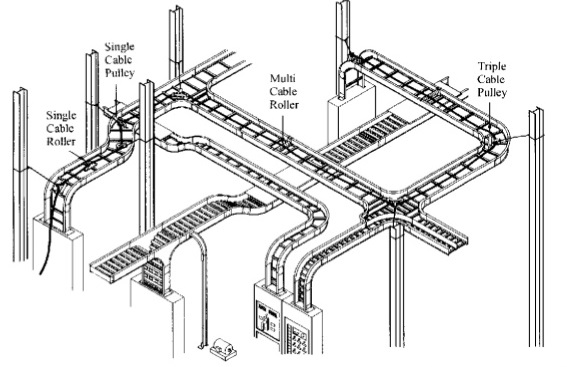 Redundant circuits (standby drives) shall be spaced as far apart as possible and shall be laid in physically segregated cable trays in separate route to the extent possible.
The highest voltage grade cables will be laid in the top-most tray and other voltage grade cables in the lower trays in descending order.
The minimum thickness of galvanization coating may be 75 micron or weight may be 610 gm/m2. Cable trays and associated fittings shall be fabricated out of the MS sheets (2 mm thick) and hot dip galvanized.
Cable Tray Support System
Cable tray supports shall be fabricated from standard MS angles/channels/flats and depending upon site conditions it shall be galvanized or painted.  The trays shall be welded to the angle support. Cable Trays will have rung spacing of 250 mm and side runner of 100 mm.
Horizontally running cable trays shall be supported at an interval of 2000 mm without causing any permanent deformation. Vertically running cable trays in cable riser/shaft shall be supported at an interval of 1000 mm. In case cables are to be laid over the top of switchgear panels, a clearance of 300 mm shall be maintained.
Cable trays will be bracket supported from walls or columns and hanger supported from overhead structural members at intervals not exceeding 2.0 meters when measured along tray center lines between supports.
Cable Tray Quality Requirements
All the tests will be carried out at the manufacturer's work in the presence of the purchaser's representative. The manufacturer will submit the material fabrication quality plan for the cable trays and its components, and it should be approved by the Purchaser before actual fabrication.
All cable tray and associated components furnished will be of uniformly high quality. In addition to conforming to the referenced codes and standards, the following will also apply:
Finish will be uniform. On the galvanized steel tray, a durable, high quality, relatively smooth coating is required. Straight members will be free of bends, flat members will be free from waves and bellies, and curved members will curve uniformly.
Sharp corners and protrusions will be avoided and dimensional transitions will be gradual rather than abrupt.
Welding fillets will be uniform in cross section, continuous where applicable, and free from voids, porosity, or inclusions. Metal adjacent to welds will be free from burnouts or discoloration.
The interior of cable tray and cable tray components will be free of sharp edges or roughness.
All cable tray and associated components furnished will be such that the completed installation will provide a neat and symmetrical appearance. Their construction and assembly will reflect careful workmanship and rigid quality control in their manufacture.
All tray and fittings will be uniform in appearance and will be free of all markings except for piece designations, which will be on the inside of the tray, and cable tray identification markers.
Components used in trays of different depths and widths will be similar and uniform in material, shape, appearance, and method of fabrication. It is preferred that trays of different depths and widths will differ only in dimensions. Differences in construction or appearance that are excessive in the opinion of the consulting engineer will be cause for rejection.
The method of joining tray sections, fittings, or tray sections and fittings will provide a smooth, uniform junction of strength and rigidity equal to the tray side rail.