Prior to commencement of transformer installation work, all shop drawings will be processed and submitted for approval by consulting engineer. Shop drawings will include front and side views of the equipment, overall dimensions, components identity, components type and ratings, electrical characteristics, incoming and outgoings location details among others.
Plant and Equipment
Following equipment and tools shall be arranged before starting the transformer installation work.
Electrician hand tools
Helpers tool box
Revit gun & revits
Electric drill, cutter
Calibrated megger & multimetre
Hydraulic cable cutter & crimping tool
Winch motor where required
Hydraulic pulley
Step ladders
Torque wench
Power Supply: Single-phase & 3-phase power where it is needed.
Fork lift and mobile crane to move equipment
Roller pipe to move & push the equipment to permanent location
Ohm meter, clamp meter, insulation tester. Earth tester, continuity tester etc
Spirit Level
Chipping hammer
Transformer Installation Procedure
Installation will be carried out in accordance to contract specifications and IEC standard 60076, 60085 & 60726 and local authority requirements.
Installation will be carried out by skilled and suitable experienced technicians under supervision of highly competent site supervisors and engineers to ensure the correctness and quality of installation.
Placement of Equipment
Loading, unloading and shifting of transformer will be done by certified machinery & skilled workers.
Transformer is loaded on the trailer with the help of certified mobile crane having lifting chains with locking hook at the end is connected to four comer of the transformer top.
Transport the transformer to the installation place, unload the transformer in clean & even place and make sure that, there should not be any blockade in installation
Shift the transformer to the installation location with the help of certified heavy duty lifting fork-lift and very carefully place on the concreted U channel rails, position the transformer wheels accurately on the U channel rails, release the transformer slowly & carefully till the wheels settle down properly on the U channel.
Push the transformer with the help of skilled worker to its original installation location and lock the transformer wheels to ensure the transformer should not move from its permanent place.
Remove all the waste material from the trench and transformer room, clean the transformer & remove the dust particles with air blower, cover the transformer with plastic sheets to protect from dust entering the transformer and safely lock the room with padlock in order to keep the equipment safe.
General Instructions for Site Works
Transformer will be delivered as a complete equipment with furnished HV & LV Components and accessories. All transformer components will be from one manufacturer only.
The delivered transformers shall include complete documentation, drawing, operating instructions, installation, O & M Manuals and spare parts availability other details.
Transformer will be free standing, self- supportive and dead front with all high voltage equipment installed inside. Enclosures are fully earthed with complete outside protection.
All data indicated in transformer and its component  will be as per approved documentations from the authority.
Cable trench is provided and pre-approved by the Engineer prior to erection of MV Transformer. Cable trench and supports shall be painted and ready for permanent installation of Equipment and properly connected for main earth grid of the system.
MV Transformer wheels are properly positioned to the designated erection location and the wheels are kept in locked position. All the dimensions are as per approved shop drawing.
The erection of MV transformer shall not require any cutting, welding or drilling of material on site.
Testing Requirements for Transformer Installation
Insulation resistance test will be conducted to the transformer to ensure that all contacts points are properly insulated. Site testing will be carried out to the MV transformer by the authority approved testing contractor and to be witness by authorities, consultant and contractor.
Prior to start of terminations this is to ensure that the Transformer are in a defect free state. All works prior to testing location to be barricaded and for precautionary safety measure. HSE personnel to be present together with the equipment in case of emergency situation occur during the time of site testing.
MV cables shall have passed insulation resistance and continuity test prior to termination to MV transformer. Engraved transformer identification number plate is to be provided.
Safety warning signage as per applicable local standard will be provided in all transformer room doors, to ensure 'no unauthorized person' is permitted to enter to room.
After all the testing has been successfully sign-off and accepted cable dressing and termination will be done. Sufficient space will be provided in the MV transformer cable terminal box in order to keep the clearance distance between the terminations.
Correct nameplates will be provided to the MV transformer installation in order to find out the identity.
Connect all bolts using torque wrench and to be ensure all the bolt tighten with accordance to the manufacturer and authority requirement torque values.
Upon completion of installation and termination, installation completion inspection request will be raised for necessary applicable approvals. Testing will be carried out by approved contractor in accordance with approved testing methodology and as per applicable regulation.
Procedure for Cable Termination
Before commencement of cable termination, clean the cable & area, measure the cable where sleeve & armored to be removed as per the requirement, keep all the necessary tools & termination kit ready.
Separate all the cores, remove the semi-conductor and clean it with CPC to ensure that, there will be no grease or dust remains on XLPE, then cover the 3 phase core conductor with heat shrinkable cable boot and cover with stress control tube and insulation sleeve on each core conductor separately , heat it with heating gas torch in order to shrink tightly and make sure, there should not be any air bubble between heat shrinkable insulation tube and XLPE.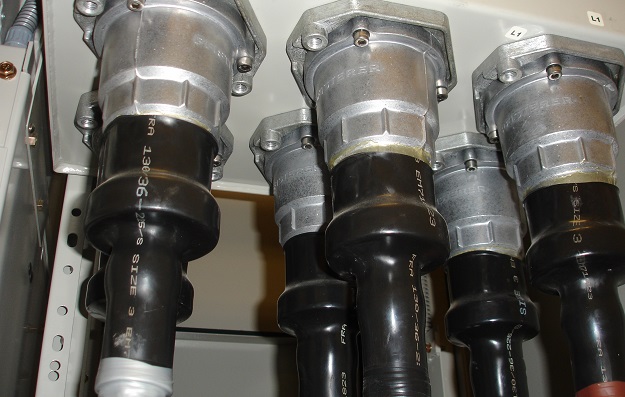 Mark the cable phasing with red, yellow & blue tape for phase identification. Finally punch the cable lugs on each core terminal with the help of hydraulic crimping tool and insulate the lugs with insulation tape, tie the cable with supporting clamp and gland the cable in the transformer cable termination box, connect the cable to the bushing and fix the bolt tightly using torque wrench, tightness of bolts will be ensure in preparation to torque test.
Only Approved technician or jointer shall do cable termination and QA/QC engineer shall inspect  and take approval for all the tools/termination kits prior to the termination work.
Separate one neutral earth and separate 2 nos. body earth with suitable earth cable to be provided to the transformer.
Body earth will be connected to earth disconnecting link bar and further the earth disconnecting link bar is connected to earth electrode and neutral earth directly connected to earth electrode as per specification. The distance between the earth pits is not less than 6 meters as per regulatory requirement. The earth resistance should be less than 2 ohms. Separate 4core/ 4mm flexible control cable to be provided from MV switch gear panel to transformer for any earth fault and over load tripping connected to the transformer control cable termination box.
Temperature monitor to be provided to monitor the winding temperature of the transformer. Ensure all the operation manual & diagrams of transformer are available from the manufacturer.