The purpose of this method statement is to define the sequence and methodology for the Installations of Automatic Transfer Switches and bypass-isolation switch ATS & BPS. Prior to commencement of work, shop drawing will be processed and submitted for approval by the Engineer. Shop drawing  will include  front and side views of enclosure, Overall dimensions, components identity, components type and ratings,  electrical characteristics, incoming and outgoing  pipe location  among  others.
Only approved shop drawing  will be used for installation and any changes in site installation as approved by the Engineer  will be reflected  on as-built. All materials and product  to be used will be submitted for approval  by the Engineer  in form of material submittal  or product  data. Only approved materials  and product  from approved manufacturer will be used for installation.
Below mentioned tools and equipment shall be arranged:
Electrician hand tools
Helper's tool box
Hole puncher
Electric drill, Cutter
Cordless screw gun
Round file reamer
Hydraulic pulley
Torque wrench
Megger Tester
Multi-meter
ATS Installation Procedure
Installation will be carried out in accordance to Contract Specifications and approved drawings. Installation will be carried out by skilled and suitably experienced electricians under supervision of highly competent site supervisors and engineers to ensure the correctness and quality of installation. ATS/BPS equipment will be UL listed in accordance with UL-1008 and will be same manufacturer as the Synchronizing Switchgear manufacturer. ATS/BPS and its components ratings will be as per the approved shop drawing and load.
Prior to dispatch of ATS equipment, a mandated factory test must have been taken placed, witness by the engineer and contractor apart from site testing in the premises of the manufacturer. ATS Equipment will be delivered in site in complete system including its internal & external components such as double throw power transfer switch mechanism and microprocessor controller. The delivered equipment will conform to approved shop drawing and engineer's requirement.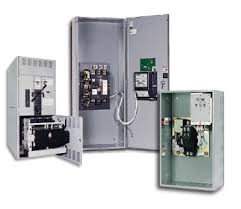 Hook will be used on top to unload the equipment. Location/foundation of ATS/BPS would have been approved prior to erection of equipment. ATS will be unloaded and bolted to the approved Leveling will be observed. Clearances and distances from the wall will be as per the approved shop drawing and applicable regulation.
An approved containment will be provided to accommodate cables terminating to ATS and connecting to synchronizing switch-gear and generator sets. Correct cable tie will be used for proper cable dressing. Proper cutting and glanding plate will be provided for incoming and outgoing cable access.
Control and monitoring wiring will be connected to the transfer  switches, synchronizing switch gear and generator  sets as per the approved drawing. Necessary requirement will be coordinated  with synchronizing switchgear. Cable tags and identification ferrule will be provided to cables. Earthing  cable will have pg glands  and correct  cable ties will be used to arrange  the cables. ATS equipment will be properly earthed and bonded  to grounding system.
ATS/BPS manufacturer will coordinate all necessary requirements with the engine/generator manufacturer. Using torque wrench,  tightness  of termination will be ensured  in preparation to torque test.
Label or identification nameplate will be provided for equipment identification.
Cleaning will be employed in preparation of testing and inspection. Upon completion of installation and termination, testing and commissioning of the equipment will be carried  out by the manufacturer to be witness  by the consultant.
Inspection Request  will be formally raised to the engineer to ensure  accuracy  and quality of works.