Introduction: The APC® by Schneider Electric Smart-UPS® RT is a high-performance, uninterruptible power supply (UPS) that provides protection for electronic equipment from utility power blackouts, brownouts, sags and surges. The UPS filters small utility line fluctuations and isolates electronic equipment from large disturbances by internally disconnecting from utility line power. The UPS provides continuous power from the internal battery until utility power returns to safe levels or the battery is fully discharged.
Installation: Read the safety information sheet before installation.
Unpacking:  Inspect the UPS upon receipt. Notify the carrier and dealer if there is damage. The packaging is recyclable; save it for reuse or dispose of it properly. Check the package contents:
UPS (with batteries disconnected)
Two front bezels
Literature kit containing:
XLT/XLTW models only: Software CD
Smart-UPS User Manuals CD
XLI model only: Six output power cords
Serial cable
Product documentation, safety and warranty information
Network Management Card documentation
Removing the Batteries: The unit is heavy. To lighten the unit, remove the batteries. Refer to the unpacking instructions on the carton in which the unit is shipped.
Hardwiring
Wiring must be performed by a qualified electrician.
Install a utility circuit breaker in accordance with local electrical codes (see tables below) for input wiring.
Switch the UPS input circuit breaker (see A) and utility circuit breakers OFF.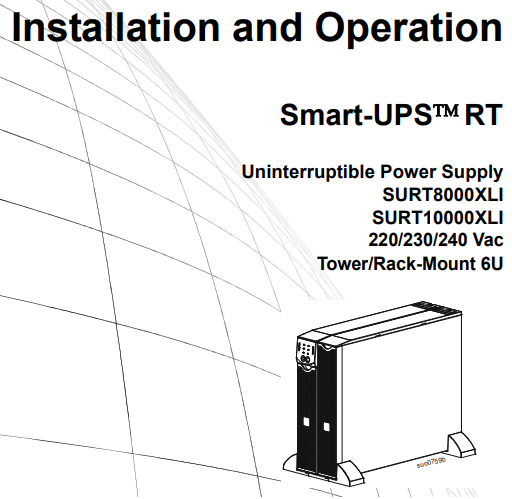 Remove the access panel (see B).
Remove circular knockouts.
Run wires through access panel to terminal blocks. Wire to ground block first. Adhere to all national and local electrical codes. (See tables and graphics.)
Use appropriate strain-relief on the hardwired input and output power cables.
Recommended wire sizes are typical. Actual wire size must comply with required ampacity and local and national electrical codes.
CONNECTING POWER AND EQUIPMENT TO THE UPS
Hardwire the UPS (see Hardwiring).
Connect equipment to the UPS (cables not included for XLT/XLJ/XLTW models).
Turn on all connected equipment. To use the UPS as a master on/off switch, be sure that all connected equipment is switched ON.
Press the button on the front panel to power up the UPS.
The battery charges to 90% capacity during the first three hours of normal operation. Do not expect full battery run capability during this initial charge period.
Configure the Network Management Card (optional).
Download Link for complete manuals
Installation and Operation Smart-UPSΤΜ RT Uninterruptible Power Supply SURT8000XLI SURT10000XLI 220/230/240 Vac Tower/Rack-Mount 6U
APC Worldwide Customer Support
Customer support for this or any other APC product is available at no charge in any of the following ways:
Refer to the APC Web site to access documents in the APC Knowledge Base and to submit customer support requests.
www.apc.com (Corporate Headquarters) Connect to localized APC Web sites for specific countries, each of which provides customer support information.
www.apc.com/support/ Global support searching APC Knowledge Base and using e-support.
Contact an APC Customer Support center by telephone or e-mail. Local, country-specific centers: go to www.apc.com/support/contact for information.
Contact the APC representative or other distributor from whom you purchased your APC product for information on how to obtain local customer support.